What is happening at Ridgeview?
Like many parents, I started a relaxed summer a couple weeks ago: camping, swimming, bike rides, and generally, some time off.
The rancorous drama that erupted caught me off guard.
Initially, it looked like this: A couple teachers had been fired. I've been around the block a few times; the reasons for firings are almost never known accurately and we're hearing only one side. These things happen. Robust organizations continue to succeed. Robust individuals continue to succeed. I don't mean to be flippant, and some angst by friendly parties is expected, but life goes on.
What we are seeing instead is a wholesale mobilization to oust the entire Board of Directors and the Principal and Vice-Principal. That is a disproportionate response. It does not pass the "smell test".
Many of the existing board members have been with Ridgeview for about ten years or more, so certainly they are not all "new blood" that somehow got corrupted – which ostensibly is the claim behind getting rid of all of them.
DR MOORE'S CAREER PATH
Dr. Terrence Moore's name has come up a lot; he even wrote an essay concerning the present situation! Just what is Dr. Terrence Moore's interest? Of course he was instrumental in the boot-up of Ridgeview, but his career has taken him far and wide since then. His level of interest certainly exceeds that of an organization's alumnus coming back to check in and make sure all is well.
Terrence O Moore Bio @ Atlanta Classical
Atlanta Classical Dr Moore page saved 6/15/2017
According to Atlanta Classical (as of 6/14), he is still the principal of Atlanta Classical Academy and senior adviser to the Hillsdale College Barney Charter School Initiative.
Ascent Classical @ Douglas County
But now he's apparently starting the Ascent Classical Academy in Douglas County. How and under what circumstances did he leave Atlanta Classical?
According to the Ascent Classical site, he plans to open this school in the fall of 2018 but does not yet have an approved charter application or location for the school.
KIM MILLER?
We're also hearing about Kim Miller. What is her interest? According to Facebook, she currently lives in Aurora and is, "currently working to recover the Founder's Ridgeview Classical Schools", but it also says she started working at the Golden View Classical Academy in Golden in March 2016. So she's living in Aurora but all of a sudden she's developed a really keen interest in Ridgeview? That is suspicious.
Kim Miller Facebook saved 6/15/2017
CLASSICAL SCHOOL NETWORK?   CMO?

Derec Shuler's LinkedIn Account
Derec Shuler LinkedIn saved 6/15/2017
According to Derec Shuler's LinkedIn profile, he is Director of "Ascent Classical Academies" (January 2017 – Present (6 months)), which is not precisely a school. It is described as, "Founded a charter management network to provide more high quality education opportunities for young people. Ascent Classical improves the minds and hearts of its student, developing good character and virtue."
So Ascent Classical is a Network of Classical Schools.
Are Shuler and Moore trying to build an empire of classical schools? It looks like it to me.
In the education business, this is apparently called a Charter Management Organzation, or CMO.
CUI BONO ("For whose benefit?")
The interest they'd have in Ridgeview is not hard for me to guess. If one were building a network of classical schools in Colorado, of course they'd want Ridgeview. But why else? I can only speculate but I imagine that it is extremely expensive to start a new charter school. Ascent Classical in Douglas doesn't even have a charter approved yet, nor do they have a location (per their site).
Ridgeview has over $2,000,000 in cash reserves in its bank account.
A hostile take-over of the Board and firing the Principal and Vice-Principal, then joining the Ascent CMO, would seem to me like a way for the CMO to gain a lot of power and assets very quickly.
THIS IS SERIOUS
In business, this is called a Hostile Take Over.
We cannot let this happen to our school.
Make no mistake, the hubbub about teachers firing and a hearsay-based accounting of Mr. Anderson's character are misdirection. It looks to me like Moore and his buddies are using some "high school" level drama in order to engineer a takeover of Ridgeview.
THE VALUE OF INDEPENDENCE
At some level, we cherish classical education because it instills in our children autonomy and independence. Speaking for myself, I value this in Ridgeview. If run under a CMO, as just one in a string of schools, Ridgeview would lose its independence and autonomy. We would become just another brick in Moore's wall.
THE END OF RIDGEVIEW
Let's say Moore & Co were able to engineer a coup of Ridgeview's Board of Directors and fire the rest of the executive staff. Many teachers and most of the admin staff would quit immediately, knowing the inevitable trajectory. With no staff, the school would not function. Its assets would be plundered to start up the Ascent Classical Network and fund the Ascent Douglas location. This kind of corporate takeover of Ridgeview would be the literal end of Ridgeview.
IS RIDGEVIEW GOOD FOR YOUR CHILDREN?
Let me ask you this, is Ridgeview doing well by your children? Is Ridgeview itself doing well? Speaking from my experience, I am extremely happy with it. My children are coming out well-adjusted, with a lot of knowledge, and a good attitude. In short, it has turned out better than I had thought possible. And, by one ranking, it's the number one high school in Colorado.
Is that a school you want to commit organizational suicide?
CALL TO ACTION
We need to create a phalanx to defend Ridgeview from this coordinated attack. Here's what you can do:
1. Reach out to the Board of Directors and/or administrators. The BOD is having some informational meetings– check your email! We got it Thursday morning.
2. Insist that Ridgeview stays independent and autonomous, not part of a CMO
3. Lend your support via email, telephone calls, facebook, and your school-parent networks
4. If it comes to it, you must vote against those who would fire our Board and Principal
It has come to light that Moore sent a nine page letter to several board members. The letter was defamatory to Mr. Anderson and contained direct threats to the school and contained threatening language with respect to the board. The letter also called directly for the firing of Mr. Anderson. The entire letter has not been made public for reasons not yet disclosed, however, excerpts have been made in public:
"How would the board like to be told next year on the first Friday in June, the anniversary of the ignominious firing of Mr. Hild and Mr. Smith, that half the faculty are heading out to work at a new school?"
In the preceding quote, the "new school" almost certainly refers to the Ascent Classical Douglas school.
Moore goes on, "That could happen. What must the board do? You must terminate Mr. Anderson's employment immediately. You must rehire both Mr. Smith and Mr. Hild. I do not know why the interim principal would not be Mr. Hild."
This letter is evidence that Moore is working to get Mr. Anderson fired and it looks like it contains the implicit threat of hiring away its teachers.
In addition, there is some evidence that Moore has led an effort to create a dossier of grievances about Mr. Anderson from students and parents.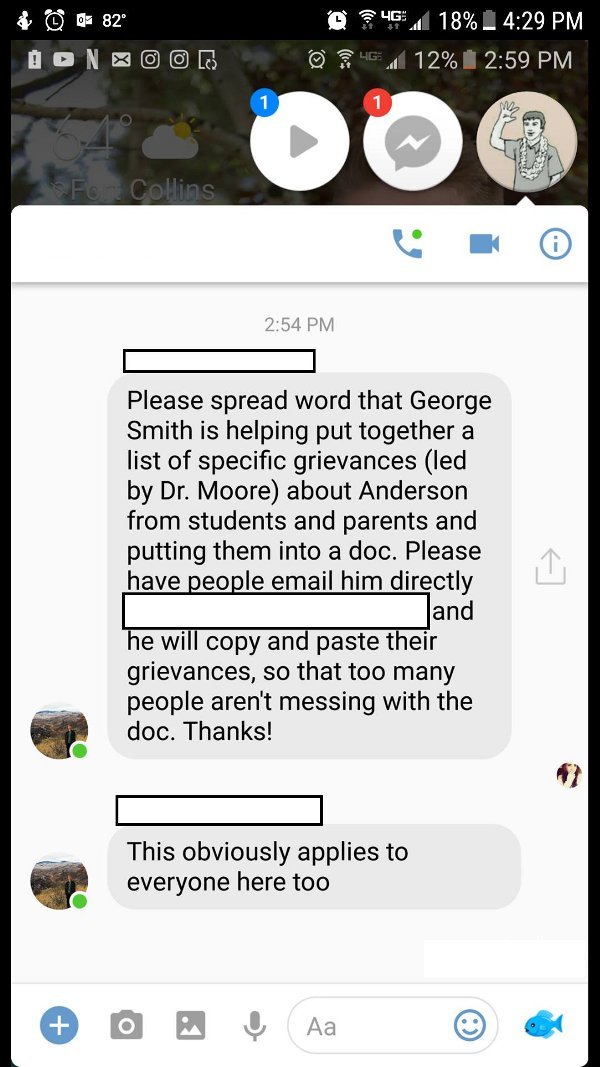 If that is what it appears to be, it proves that Moore – someone who isn't even a Member of our corporation that is the school – is actively trying to undermine the Board, our Principal, and the school's Members.
ACAD is the Ascent Classical Academy of Douglas County, and the ACA is the Charter Management Organization (CMO).
The ACAD Charter Application PDF file (original PDF here), on page 22 of the PDF (page numbered 17), says this,



Ascent Classical Academy of Douglas County will also engage Ascent Classical Academies
("ACA"), a charter management organization to manage the school and business operations.
The ACA team has experience starting and operating classical charter schools in Colorado and
the organization is committed to and supports the principles of the BCSI. The ACA relationship
creates a close relationship with Golden View Classical Academy in Golden, Colorado.
Dr. Terrence O. Moore, the expected founding principal of ACAD was also the founding
principal of Ridgeview Classical Academy and this is another partnership ACAD expects to
establish.